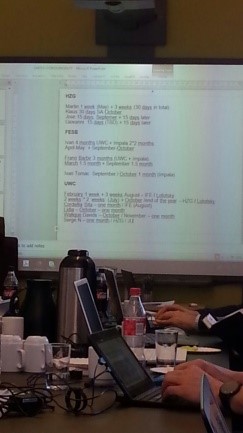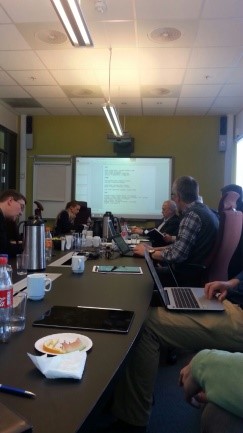 The project kick-off meeting hosted by the coordinating institution, Institute for Energy Technology (IFE), was held on 22-23 February 2018, at Kunnskapsbyen konferansesenter, Kjeller, NORWAY. The meeting was chaired by the project coordinator, Prof. Yartys.
The Project Adviser, Irina Tiron, European Commission, Research Executive Agency, Unit A3 – Marie Skłodowska-Curie Research and Innovation Staff Exchange (RISE) joined the meeting via videoconference from Brussels. She congratulated the consortium with success of the proposal, outlined the main requirements for the execution and reporting on the RISE projects, informed about the midterm meeting, announces a new call for the RISE proposals and wished success to the project.
The participants introduced themselves and their institutions followed by an overview of project-related R&D activities in their teams. The presentations have been followed by the discussions of various issues including outlining the details of R&D activities; budget and practical aspects; details of Consortium Agreement; plan of the secondments for the current year.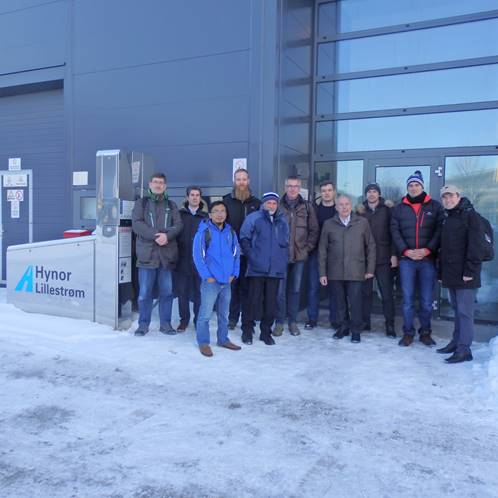 On 23 February, the participants visited HYNOR hydrogen filling station in Lillestrøm.
The next mid-term project meeting to be held in Germany was scheduled for April 2019.
Participants
EU Commission:

I-E. Tiron (via a teleconference)

Institute for Energy Technology (IFE), Norway:

Volodymyr Yartys, Project coordinator
Tine Uberg Nærland

HYSTORSYS AS (HSS), Norway
Helmholtz-Zentrum Geesthacht (HZG), Germany

Martin Dornheim
José Maria Bellosta von Colbe
Giovanni Capurso
Klaus Taube

University of Split (FESB), Croatia
University of the Western Cape (UWC), South Africa
Impala Platinum Holdings Limited (Implats), South Africa

Fahmida Smith (via a Skype conference)

Institut Teknologi Sepuluh Nopember (ITSN), Indonesia
TF Design (Pty) Ltd (TFD), South Africa