The Hydride4Mobility On-line meeting was held via MS Teams platform on 10th of September 2020 in the presence of all project beneficiaries and all project partners except Implats (sick leave of the PI), Figure 1.
Meeting was scheduled in order to discuss current status of the work at each party and reviewing of scientific activities.
Meeting started with the presentation of project coordinator prof. V.A. Yartys: Hydride4Mobility project – current status. Prof. V.A. Yartys gave brief overview of the scientific activities at IFE within Hydride4Mobility project. Because of national and institutional rules in place triggered by the COVID-19 pandemic secondments have been blocked and following actions have been proposed:
To continue grant related activities and to amend the grant by extending its duration later this year.
The revised scheduled of the secondments should be prepared when situation will be clearer.
To prepare manuscript for special issue of International journal of hydrogen energy related to Hydride4Mobility project achievements.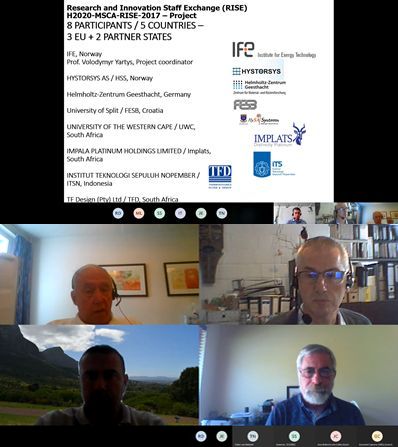 Figure 1 – On-line meeting participants
Following participants gave talk on current status of the work and scientific activities at their institutions:
Jon Eriksen (HYSTORSYS AS): Metal hydride hydrogen compression and storage systems by HYSTORSYS
Prof. Dr. Ivan Tolj (FESB): Research outputs related to WP4 and WP5
Klaus Taube and Dr. Giovanni Capurso (HZG): Research activities at HZG
Mykhaylo Lototskyy (UWC): Contribution of UWC team into Hydride4Mobility (also outlining contribution of Implats)
Tobie van Niekerk (TF Design): TFD project related activities
Prof. Dr. Suwarno Suwarno (ITSN): Metal hydrides for mobile and stationary applications