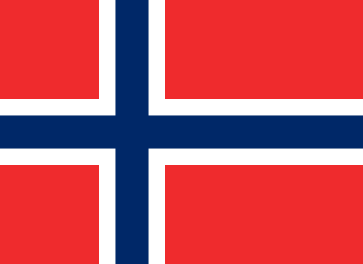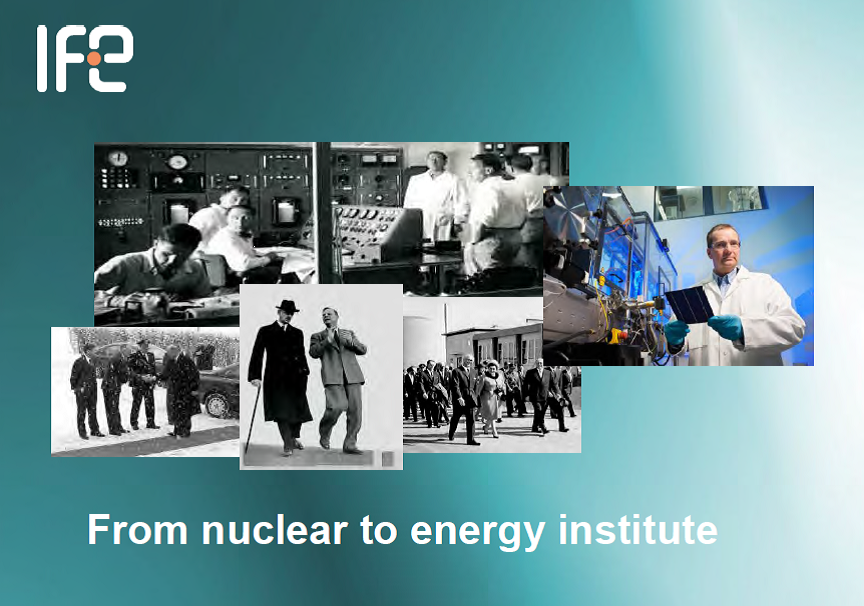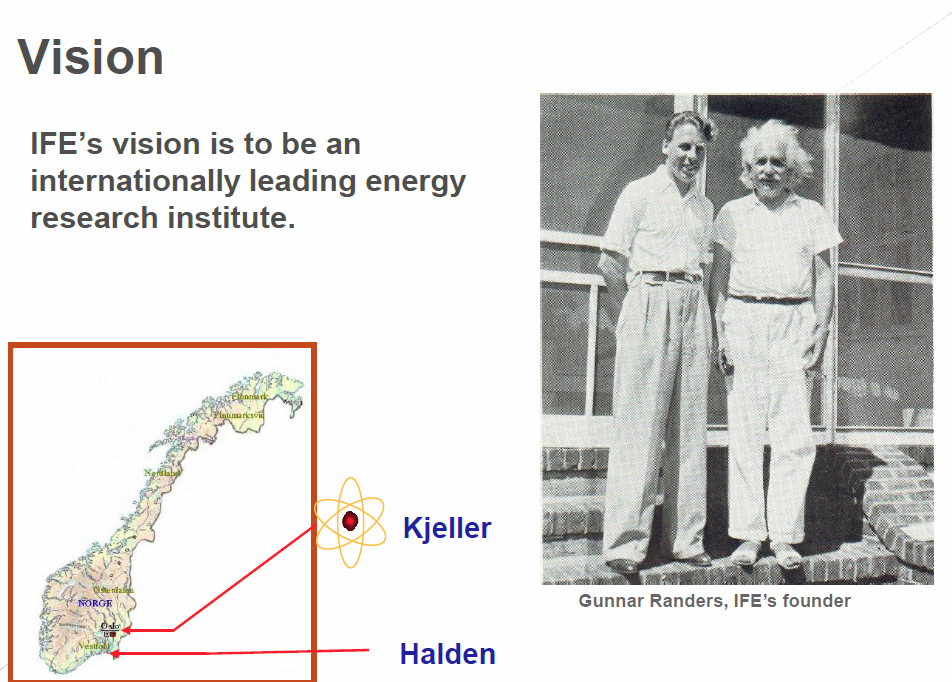 A proud history
Independent foundation established in 1948
Built one of the world's first nuclear reactors (JEEP I, 1951)
Organised the world's first international scientific conference on nuclear technology in 1953
Developed the world's first colour screen based control room (OPCOM, 1972)
Developed the technology enabling multiphase transportation of oil, water and gas (Olga, 1980)
Developed the technology that made it possible to trade electricity on the stock market (Nordpool,1993)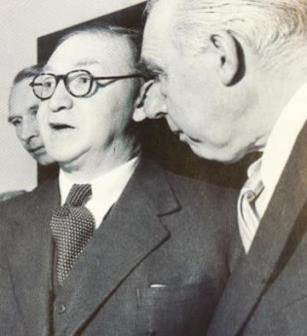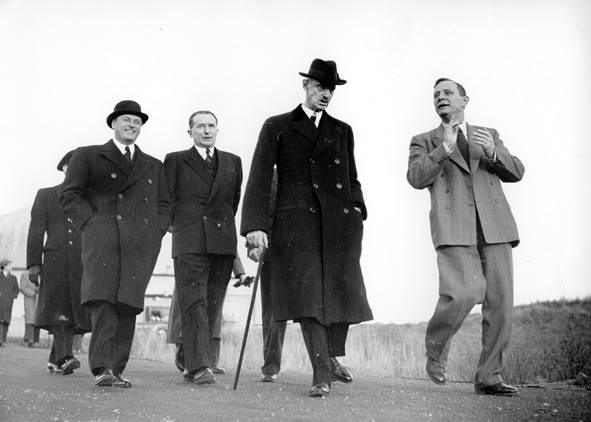 Nobel Prize Laureates Sir John Cockroft and Nils Bohr, King Haakon and Crown Prince Olav at the opening of the JEEP I-reactor at Kjeller 28th nov. 1951
IFE is Norway's national centre for energy and nuclear technologies. The focus is on the development in in the area of renewable energy technologies integrated with use of hydrogen and electricity as energy carriers and on the petroleum sector.
IFE has excellent laboratory facilities for synthesis and characterisation of the materials for energy storage, including metal hydrides:
These include:
MATERIALS SYNTHESIS:
Arc Melting Apparatus AM/0,5;
SPEX vibromill and a planetary ball mills Fritch P6 for milling in hydrogen atmosphere;
Sieverts' apparatuses;
Melt spinning equipment;
Thin film technologies;
Argon glove boxes;
MATERIALS CHARACTERIZATION
PCT 200 bar H2;
High pressure 1000 bar setup for synthesis/PCT measurements;
Thermal Desorption Spectroscopy;
Electrochemical multichannel test station and Arbin Instruments testing system;
In situ time resolved Synchrotron XRD measurements (80-1300 K; 100 bar H2) at SNBL, ESRF;
In situ NPD monitoring charge/discharge of the H storage materials (PSI, Switzerland and IFE);
Microstructure characterisation by use of SEM, EPMA, TEM and optical microscopy;
Setups for hydrogen storage system testing (H2 flow; temperature monitoting; pressure).
General information
R&D in a broad scope of renewable energy and energy storage storage technologies;
600 employees (Kjeller and Halden);
Turnover: NOK 1 billion;
Contract research;
Internationally oriented
ENERGY AND ENVIRONMENTAL TECHNOLOGY
Renewable energy; solar cell technology, wind energy, hydrogen as energy carrier
Energy systems analysis
Carbon capture and storage (CCS)
Battery technology
Radioactive waste management
66 employees
Turnover: MNOK 144
Role in the project.
Coordinator
Research activities: Focus on the development, synthesis and characterisation of advanced MH materials for hydrogen storage and compression.
MAIN RECENT PUBLICATIONS ON THE TOPIC OF THE PROJECT
M.V. Lototskyy, V.A. Yartys, B.G. Pollet, R.C. Bowman, Jr.  Metal hydride hydrogen compressors: a review.// International Journal of Hydrogen Energy, 39 (2014) 5818-5851.  
J.-C. Crivello, B. Dam, R.V. Denys, M. Dornheim,  D.M. Grant,  J. Huot, T. R. Jensen,  P. de Jongh,  M. Latroche, C. Milanese, D. Milčius,   G.S.Walker, C.J. Webb, C.Zlotea  and V.A. Yartys. Review of magnesium hydride-based materials: development and optimisation.//  Applied Physics A: Materials Science and Processing. 1 February 2016, 122 (2):97, pp. 1-20.
Volodymyr A. Yartys, Mykhaylo Lototskyy, Vladimir Linkov, David Grant and Alastair Stuart, Jon Eriksen, Roman Denys and Robert C. Bowman, Jr.  Metal Hydride Hydrogen Compression: Recent Advances And Future Prospects. // Applied Physics A: Materials Science and Processing. 122 (4): 415 (2016) 1-18.
M.V. Lototskyy, I.Tolj, L.Pickering, C.Sita, F.Barbir, V.Yartys. The Use of Metal Hydrides in Fuel Cell Applications.// Progress in Natural Science: Materials International, 27 (1) (2017) 3-20.
Mykhaylo Lotoskyy, Roman Denys, Volodymyr A.Yartys, Jon Eriksen, Jonathan Goh, Serge Nyallang Nyamsi, Cordellia Sita and Franscious Cummings. An outstanding effect of graphite in nano-MgH2-TiH2 on hydrogen storage performance.// J. Materials Chemistry A, 6 (2018), 10740-10754.
Institute for Energy Technology and
Norwegian University of Science & Technology NTNU,
P.O. Box 40, NO 2027, Kjeller, Norway
(https://www.ife.no/en/ife/ife_employees_new/yartys_volodomyr-en; https://www.researchgate.net/profile/Volodymyr_Yartys)
Prof. V.A.Yartys is an international expert in hydrogen and energy storage working in the fields of:
Nanomaterials for energy storage;
Rechargeable Batteries;
Hydrogen as an Energy Carrier;
Hydrogen storage systems;
Use of metal hydrides in energy management.
New Intermetallics and Carbon Materials for Hydrogen Storage and Battery Applications.
V.A. Yartys acted as a project leader in a number of research projects funded by EU, Norwegian Research Council, Nordic Energy Research, industry.